Hello travellers and sacred adventurers, we welcome you to join us for our upcoming in person events and 7 Sacred Days online programs!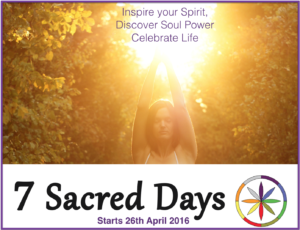 Registration Now OPEN!
7 Sacred Days' Annual Program and Community



An Online 8 Festival Program to
Inspire your

Spirit,

discover

Soul Power

and celebrate

Life
---
Goddess Gatherings
2 gorgeous events in Bristol hosted by Clare Russell
or
Book both events for £110

Pele Fire Goddess Gathering
 Saturday May 14th 2016 10am – 5pm
 

Empower – Birth– Spirit Fire
Lakshmi Abundance Ritual Goddess Gathering
 Sunday October 16th 2016 (full moon) 10am – 5pm
 

Joy – Wealth – Celebration
Click here for more information
---
A FREE Guide to Inspire your Spirit and Reclaim Wonder in everyday life
Let wonder be your guide and watch the transformation it creates –

your Inner Shaman is waiting for you to answer the call,

follow the drum rhythm of your heart and set them free to dream Big and Beautifully in your life.
---
Our 5th year of Sacred Destinations tours around the world is completed! We're in deep gratitude for all of you who been part of our joyful heart opening journeys!
2016 events are being updated as we speak. In the meantime, please do have a look at last years tours, read our blog and visit the gallery of pictures from past tours.  Stay in touch with us and register for our monthly newsletter.