Meet Us
We love to work in collaboration with amazing and talented organizers, guides and facilitators.
Clare Russell: Founder, Organizer & Facilitator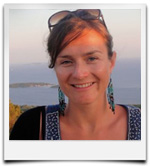 I help people reconnect with their intuitive self and reignite their heart wisdom. My passion is through all that I do to uplift and celebrate your capacity to live joyfully, harmoniously and with love.
I'm a qualified healer & coach and regularly write for national magazines, including Soul & Spirit and Natural Health.  I faciliate tours, retreats and workshops across the UK and internationally on intuition, the chakra system & lightbody, and transformative communication.
I'm the founder of www.clarerussell.com and Sacred Destinations.   Over the last 5 years with Sacred Destinations I've I guided spiritual tours to the Ireland Goddess Sites, Bosnian Pyramids, UK Sacred Sites, Italy Sacred Sites, and Mount Shasta California.  It was fun to be included in Soul & Spirit magazine as one of 4 'women of the world' leading spiritual travel, (May 2012).
My love is stepping into our naturally intuitive, creative genius selves!  So, its a natural joy for me to facilitate individuals and groups in the magical journey of discovering their Sacred Self.  This is your true self who lives from unconditional love, deep wisdom and abundance.
I draw on my many years of experience in work as a healer and as a teacher in the practice and principles of intuition, the subtle fabric of consciousness and the power of empathic communication.  I weave these core skills and expertise together so that you can know your sacred self through your own direct experience.  As, once you have heard your inner wisdom speak to you, there is no going back!  The world of magic and possibilities opens, the desire to live from your beautiful magnificent self is unleashed and the freedom to be who you are is joyously accepted!  its my absolute passion to support you at all stages of this journey so that the gift of who you are is revealed and revelled in.
I'm also honored to train organizations in the art of intuitive listening, transformative communication, and intentional creation.  I've spoken at Alternatives, the Brahma Kumaris Spirit of Coaching events and trained spa therapists at the 2012  world No 1 sustainable Hotel in the profound wisdom of transformative communication.
I hold a 1st class honors degree in Philosophy from Durham University, I'm a Reiki Master, Theta Practitioner, Isis Healing practitioner and qualified coach.  I also work with the vibrational medicine of sound through Light Language.
I'm  also an avid traveler, with recent visits for work and pleasure to Egypt, India, USA, Mexico.  Some of my favorite magical places include Tibet, Giza Plateau, Yunnan province, Glen Coe, Cornwall and Stonehenge.
Justin Newitt
I grew up in the wilds of Herefordshire and there developed a deep love and reverence of the natural world. For many years I have explored the connecting between emotional and physical well being and consciously feeling a part of nature. I have profound and deep connection to the land around me and it is the home for my own spiritual journey.
I am a more than an occasional Hedgewitch and have travelled to many sacred sites around the UK, creating a few of my own along the way. I have been inspired by authors such as Rea Beth and Starhawk. I am influenced by Wiccan practises and work ceremonially with the elements to further sacred connections to the world.
I believe that all the land around us is sacred and in this natural world ultimately lies the destination for all our spiritual journeys.