Bosnian Pyramids White Light Beings Soul Travel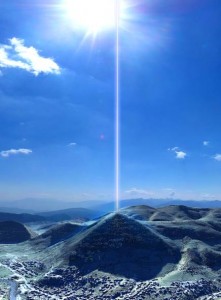 by Clare Russell
Sacred sites around the planet hold vortexes of energy that support the earth and all beings into coming into alignment with themselves. Each sacred site carries its own energy signature that is unfolding itself into its fullest expression. (2012 is a significant 'gate' year as we move in higher dimensions). When we visit them, it allows and supports us in discovering our own fullest expression, as aligned to the specific aspect held in this sacred site.
Click here to download the Bosnian Pyramids Soul Travel Meditation
What is Soul Travel?

We can visit these sites in our physical bodies and we can also visit these sites through Soul Travel. Soul Travel is the experience of being in deep connection with your Source that is part and one with the Source of all. From this place of oneness you can travel everywhere, directed by Source you're naturally always in alignment with your highest potential.
This is a guided Soul Travel to the Bosnian Pyramids, traveling from the heart of your soul is a powerful and beautiful experience, allow yourself the space and time to explore it. In visits you will likely receive information, downloads and activations from these sites. Please also rest, drink water and allow yourself to absorb your experience afterwards.
About the Bosnian Pyramids and Beings of white light
This is a free downloadable Meditation to connect with the Bosnian Pyramids, and specifically to travel to the core of the active archeological dig there – the tunnels that are thought to feed and charge the Pyramids which then creates the beam of energy coming out of the top of the Pyramid. I speak a little at the beginning about my experience at the Bosnian Pyramids, followed by a 30 minute soul travel meditation that also incorporates Light Language – high frequency sound codes that aids your travel and connecting experience. Click here to find out more about the Bosnian Pyramids New Earth tour in 2012 and click here to read about my experience at the Bosnian Pyramids in 2011.
The white light Beings. My experience when in the tunnels of the pyramids was highly joyful. Since coming back from Bosnia, I have experience more directly white misty beings as I soul travelled to the pyramids. On sharing this experience with others who have been in the tunnels I discovered that they have also experienced these white light beings. They offer a beautiful healing heart resonance energy, very lovely new friends. I wish you much enjoyment of connecting with them through this meditation.
What is Light Language?
This language comes from deep within the heart of each Being, it enables an expression of deep love in a language beyond words. In a language of resonance, instant understanding is communicated from being to being. The language of light reveals the pathway of the heart that knows we are One, energetically and spiritually. In this case, I experience the energy of the white light beings in the tunnels at the Bosnian pyramids, and this translates into sound waves as light language. This language then becomes a gateway to meet them more easily and effortlessly. With all energetic experiences, allow your breath to guide you as you hear the language, breathe deeply, relax and enjoy.
Click here to download the Bosnian Pyramids Soul Travel Meditation